Hiring Open Call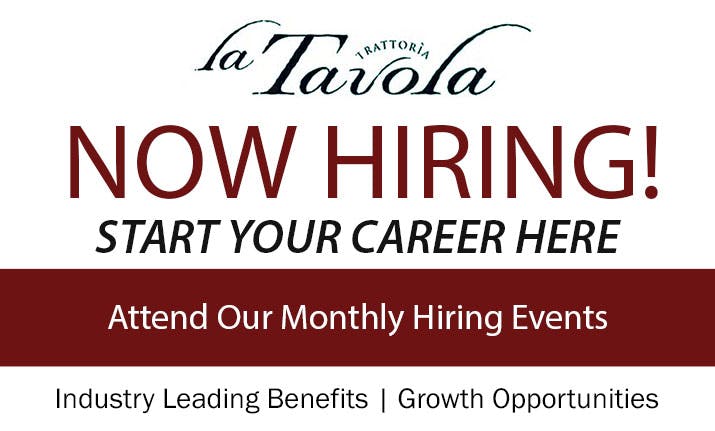 The Open Call events are a great way to find a job with Atlanta's most respected hometown restaurant group. During the Open Call events, Fifth Group Restaurants will be holding in-person interviews to help you find a new job fast with a company that promotes professional growth, respectful environments, great pay and industry-leading benefits including paid vacation, healthcare insurance, and 401k.
*We're currently offering a $1,000 bonus for 100 days of full-time work (5-6 shifts per week).
Make sure to bring your updated resume. Immediate placement is available!
Each of our restaurant locations host their own Open Call events on site, to view details of upcoming Open Calls, click on the links to the events below. All are typically scheduled on a weekday afternoon:
La Tavola Trattoria
992 Virginia Ave. NE, Atlanta, GA 30306
View Open Call Event Schedule on Facebook
Our amazing restaurants are located in great neighborhoods all across Atlanta, GA:
South City Kitchen (Midtown, Vinings, Buckhead, Avalon)
Ecco (Midtown & Buckhead)
Alma Cocina (Downtown & Buckhead)
Lure (Midtown)
La Tavola Trattoria (Virginia Highlands)
The Original El Taco (Virginia Highlands)